A short post about interesting business ideas, I came across in the last week or so.
Lost-key drop service
A service, that sells numbered key chains, which has something like this written on it: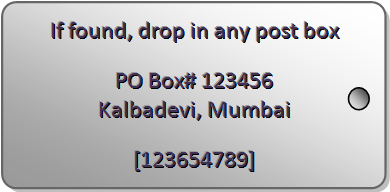 When the key is lost, the owner will contact the service hotline to ascertain if the key, with id number 123654789 in the above example, has been returned. If yes, he can pick it up or have it mailed for a fee. Works best if the operation is distributed having franchise operators in each city. Thus the turnaround time between losing the key and regaining it can be minimised.
A customer can register the key code online, to get an email / SMS whenever the key is returned.
Help and advice to DIY farmers
About 6-months ago, I discussed with a friend on, how I am interested in growing a vegetable garden, but have no clue where to begin. I was interested if someone will give me advice on what to grow, when and how as well as supply the needed materials. Six month later, I read about sproutrobot, on techcrunch. Sproutrobot, is a US based start-up, pretty much doing what I described above. Now if someone can replicate this for India.
DIY greeting cards
Create an online service that allows users to create a greeting card selecting the paper, design and wordings. This is then handmade and either mailed to the user or distributed to the list provided. There are a few similar services, but none having the refinement and social integration of the "new web".
This is the one I am most likely to try out, just for the technical kick. I also intend to concentrate on a very specific niche to be able to provide templates to best match what the user might want.